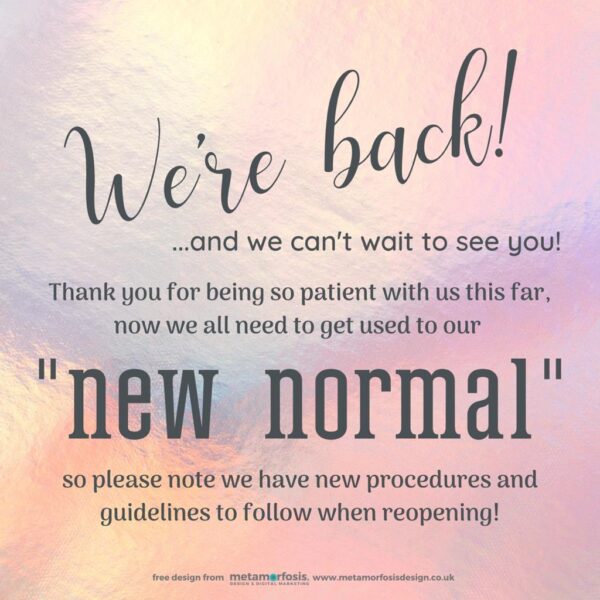 Update January 2021
Due to the Third National Lockdown, Angelic is currently closed. We continue to update our social media pages and offer a local delivery service for our products.
Our products are on display on the website and are being updated regularly. We are working on a National/postal delivery service at present and will update in due course.
Once we hear more from the Government regarding re-opening we will inform you of our opening day and new salon procedures should they be required.
Best wishes
Laura and the Angelic team.
Following the announcement on the 14th of August by the Government. Angelic will be resuming all treatments. Which is such wonderful news.
We still have guidelines to adhere to and we ask if you could read and follow the salon guidelines, so that we can open safely for not just you, our customers, but to protect ourselves as well.
As some you may know we can now open to resume facial treatments from the 15th of August.
It's been such a long time and I'm really looking forward to seeing you all once again. As I'm having to follow current Government guidelines I have to ask you the questions below before your appointment. This is to help keep everyone safe.
The most important symptoms of coronavirus (COVID-19) are recent onset of any of the following:
A new continuous cough
A high temperature
Difficulty breathing
Loss of, or change in, your normal sense of taste or smell (anosmia)
Please see below for our downloadable print off of our consultation form. This will need to be completed prior to your arrival.
If you are unable to print off then we can arrange a telephone consultation the day before. On arrival you will just need to sign the paperwork. Please inform me if this is your preferred option when you book your appointment.
Downloadable Consultation Form
Below is a downloadable Covid 19 consultation form which you will need to complete before coming to your appointment. For anyone who is unable to do this. We can complete the form over the telephone and you can sign before your treatment begins.